Meet Percy.  Percy "The Bucks County" Camel is family to our traveling mobile petting zoo who impacted our zoo and our hearts in a way that no one could have expected.  The Peaceable Kingdom Petting Zoo has to thank the community for their love and support who are responsible for bringing Percy the camel to us.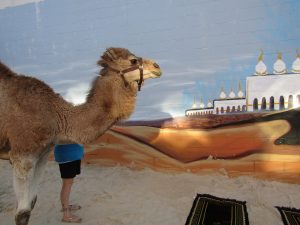 Do you remember Khan, our loveable, friendly, and a fan favorite camel at our zoo? Unfortunately, Khan had a terrible accident and we lost him; it broke our hearts but us as a community pulled together a fundraiser that allowed The Peaceable Kingdom Petting Zoo to purchase Percy. It was the love and support from the community that brought Percy to us, and we thank the community every day as Percy is now family and we love sharing him.  Percy was only 6 weeks old at the time and is now Percy "The Bucks County" Camel.
Hire Percy for your next event. He loves meeting people whether it's for your child's birthday party, prom, corporate event, picnic, fair, carnival, nativity, or graduation party. Call us today or contact us via email.  Remember to include your phone number as it's easier for us to speak via phone than email as we're always with the animals.